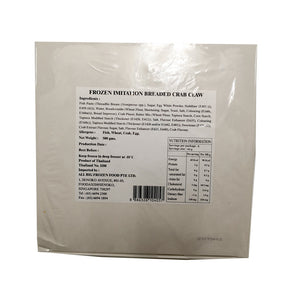 All Big
Breaded Crab Claw (500G)
Regular price
$7.50
$0.00
Unit price
per
Tax included.
Shipping
calculated at checkout.
Frozen
15-16 pcs
Product of Thailand
Made from top grade fish surimi paste!
Convenient and delicious!
Leaves a crispy golden brown crust after deep frying!
Great finger food!
Contains Fish, Egg, Crab and Wheat products.
Halal Certified
Serving Suggestions:
---
Share this Product
---
Breaded Crab Claw: A Quick and Easy Snack
Random hunger pangs are aggravating, more so if you have no energy to cook up an elaborate meal. Satiate your growling stomach with a quick and easy snack - throw in a few premium breaded crab claws into the air fryer and pair them with your favourite dipping sauce at the side. Afterwhich, indulge in a satisfying crunch and revel in the succulent crab meat jam-packed with a mouthful of flavours. Prepping a satisfying quick snack has never been this easy! Better yet, bring our breaded crab claws to your annual intimate steamboat get-together with your family and friends to have a good chow time!
Our Breaded Crab Claws
Our breaded crab claws come frozen in packs of 30 pieces, which hits the perfect spot for a midnight snack for a couple rounds as well as an all-out weeknight family dinner. Made with high-grade fish surimi paste, our halal-certified breaded crab claws will leave a beautiful golden-brown crust after deep frying. Our breaded crab claws are made with high grade fish surimi paste and leave a crispy golden-brown crust after frying or baking, making them the perfect finger food for parties.
That said, do note that our breaded crab claws contain crustacea, soybean, fish and wheat product.
Order Your Breaded Crab Claws Today
All Big Frozen Food takes pride in being a reliable wholesale seafood supplier in Singapore that offers an extensive range of fresh and frozen seafood for all your cooking needs. Order our breaded crab claws on our online store and leverage our delivery service to have our products delivered right to your doorstep! Our seafood products are delivered in refrigerated trucks to keep them at optimal temperatures to ensure they reach you at their peak freshness. Alternatively, you can also collect your orders in our store.
Order your breaded crab claws today!