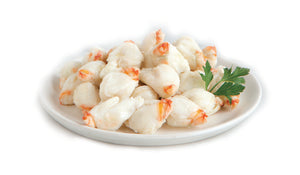 All Big
Pasteurized Crab Meat Jumbo (454G)
Regular price
$26.50
$0.00
Unit price
per
Tax included.
Shipping
calculated at checkout.
Frozen
Origin: China
Carefully handpicked and pasteurized, these high quality crabs are rich is protein and iron!

Comes in crab meat lumps for convenient cooking!

Great for stir frying, appetisers and pasta dishes!
---
Share this Product
---
High-Quality Frozen Crab Meat
Crab meat is a crowd favourite. It's the perfect meat to bring out on hot days for dinner parties, family reunions, seasonal events and more. You can be certain that if you offer crab meat at your next dinner party or hotpot, it will be the first meat to go! At All Big Frozen Food, we just can't get enough of high-quality crab meat and pride ourselves on providing premium ingredients to restaurants and the public. Whether you're after something special for your home kitchen or are looking for a wholesale seafood supplier in Singapore, we've got you covered.
Pasteurized Crab Meat for Cooking
Our premium jumbo frozen crab meat is carefully handpicked and pasteurized so you can prepare and enjoy it however you like. This crab meat is not only delicious but good for you as well — crab is high in important proteins and iron, making it suitable for most diets. Our frozen crab meat comes in convenient portion sizes so you can take what you need from the freezer and leave the rest for your next crab-based meal. We love cooking our pasteurized crab in stir-frys, pastas or with delicate appetizers.
For something different, try having crab as the main meat in fish tacos! This fusion is an exciting twist on classic crab-based dishes. When it comes to cooking delicious crab meat meals the only limit is your creativity so get cooking and find your new favourite dish. Order your crab meat and start getting creative in the kitchen!
Shop Frozen Crab Meat Online in Singapore
Buying frozen crab meat and shellfishes in Singapore doesn't have to be difficult. With our easy-to-access online store, you can browse all our frozen seafood options and filter according to your preferences. And if you decide to order premium seafood through our website, take advantage of our Singapore-wide delivery service with free delivery for purchases above $60!