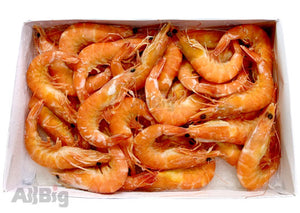 All Big
Vannamei Cooked Prawns (1KG)
Regular price
$21.50
$0.00
Unit price
per
Tax included.
Shipping
calculated at checkout.
Frozen
Head On Shell On
Simply defrost and ready to eat!

Convenient for appetisers and starters!
---
Share this Product
---
Vannamei Prawns 
Vannamei prawns, also known as white shrimp or king prawns, are popular across Asia for their sweet taste and firm texture. It is a highly versatile type of tropical prawn that is sustainably farmed all year round, making it a reliable seafood option for both home cooks and businesses. 
As the leading seafood supplier in Singapore, All Big Frozen Food is committed to providing high-quality, Halal-certified vannamei prawns at wholesale prices. Our vannamei prawns are fully cooked with the heads and shells intact, before they are frozen to preserve quality. From everyday meals to special dinner parties, having readily cooked prawns in your freezer makes preparation a breeze. 
Cooked and Ready to Eat 
Why buy cooked frozen vannamei prawns over raw ones, you might ask? It all comes down to convenience. Nothing compares to the ease of simply defrosting ready-to-eat prawns — no cooking necessary! You can add them as is to salads and appetisers, or lightly warm them up via steaming, boiling, or stir-frying. Vannamei prawns are irresistible additions to pastas, soups, sandwiches, and even elegant shrimp cocktails.
Since our vannamei prawns are already cooked, be sure not to overcook them by using lower temperatures and only adding them in at the last stage of cooking. We also recommend defrosting frozen prawns using cold water, as hot water could lead to them defrosting unevenly.  
Shop Frozen Vannamei Prawns in Singapore 
If you're looking for trusted vannamei prawn suppliers, you've come to the right place. Our premium frozen vannamei prawns are available in 1kg boxes which you can order online from the comfort of home. On top of vannamei prawns, you can also find a myriad of seafood products such as tiger prawns, shellfishes, fishes, and many more. Enjoy free delivery across Singapore when you purchase above $60. Should you have any questions about our products or delivery service, you can always reach out to us for more information.